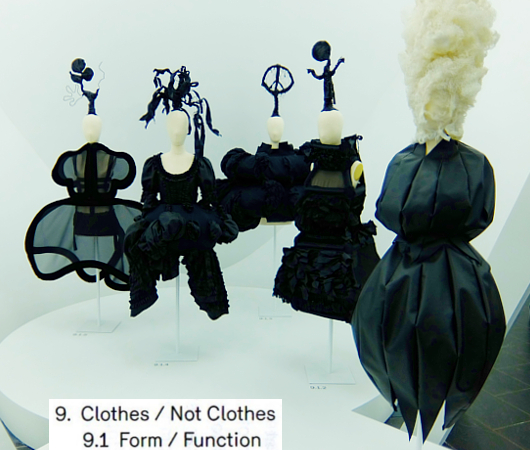 9. Clothes/Not Clothes
Kawakubo's revolutionary experiments with "inbetweenness" are taken to their logical conclusion in
Clothes/Not Clothes
. Its eight subsections present examples from the designer's most recent collections, all produced following the second rupture in her career. In 2014 Kawakubo became frustrated with her design process, which she felt hindered her pursuit of "newness." Adopting a radical method of creation with the intention of "not making clothes," she aspired to translate her ideas directly into forms, or "objects for the body."
The "objects for the body" featured in
Clothes/Not Clothes
represent Kawakubo's most profound and transgressive realizations of "forms that have
never before existed in fashion." Examples of earlier clothes that presage themes and motifs explored in the designer's recent collections are presented alongside their "not clothes" counterparts. While the former insist on their viability as apparel, the latter exist as purely aesthetic and abstract expressions. They share formal qualities with sculpture as well as conceptual and performance artworks, but Kawakubo has always preferred the epithet "worker" to "artist." Even so, she recently has begun to consider fashion as art, opening up yet another in-between space—Fashion/Art.
9. Clothes/Not Clothes
9.1 Form/Function
Form/Function
features Not Making Clothing, the first collection Kawakubo produced in response to her aspiration to design "objects for the body." The title is a statement of intent, a declaration of her determination to favor pure form. In terms of process, she sought to abandon her previous design experience and create from the viewpoint of a naive child or untrained artist. She explained, "I wished there was a new psychedelic drug that allowed me to see the world differently, through the eyes of an outsider."
These designs break with traditional fashions in their relationship to the human figure. Abstract shapes and three-dimensional structures stand apart from the body, and eccentric silhouettes and exaggerated proportions—reminiscent of doll clothing—threaten to obscure and overwhelm the figure. While there is a definite fissure between Not Making Clothing and her preceding work, there are notable aesthetic, technical, and thematic similarities, as is apparent from the ensemble from her 2009 collection Tomorrow's Black. In addition to the color black, it has a similar body-obscuring silhouette, achieved through the piecing together of irregular and outsize pattern pieces.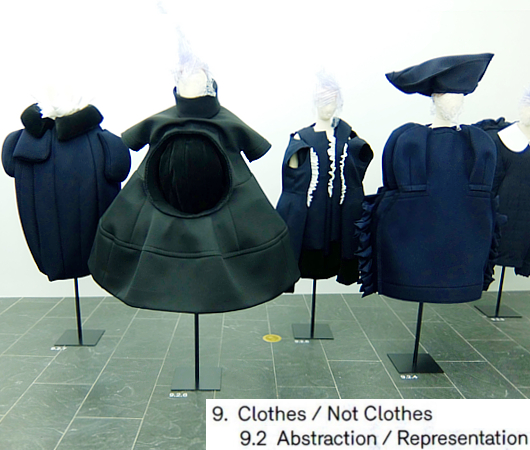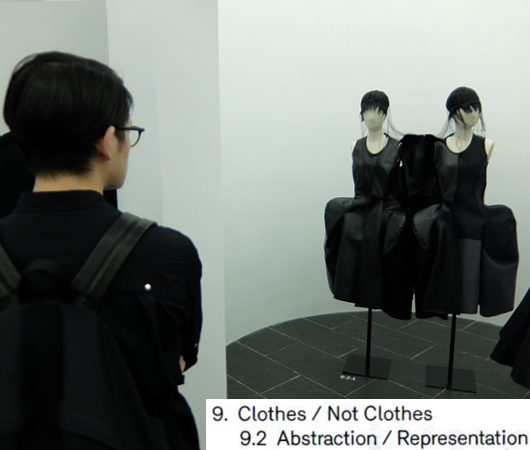 9. Clothes/Not Clothes
9.2 Abstraction / Representation
Abstraction / Representation
features
Invisible Clothes
, which Kawakubo considers "the clearest and most extreme version of Comme des Garçons." The abstract, sculptural qualities of the ensembles are emblematic of her indifference to the "representational" characteristics of clothing. Several of the garments comprise multiple versions merged together, an idea also evident in the 2011 collection
No Theme (Multiple Personalities, Psychological Fear
). Unlike the earlier pieces, however, the more recent ones disrupt and dissolve any hierarchy between body and dress.
The garments included in
Invisible Clothes
challenge the dominance of the body by obscuring, displacing, and in some instances eliminating figural elements such as the sleeve, bodice, neckline, and waistline. As the figure recedes into volume and planarity or dematerializes through fragmentation, body and dress become interdependent and indistinguishable. Of these designs, Kawakubo noted: "If you say clothes are to be worn, then perhaps they are not really clothes. . . . They are not art, but they don't have to be clothes, either."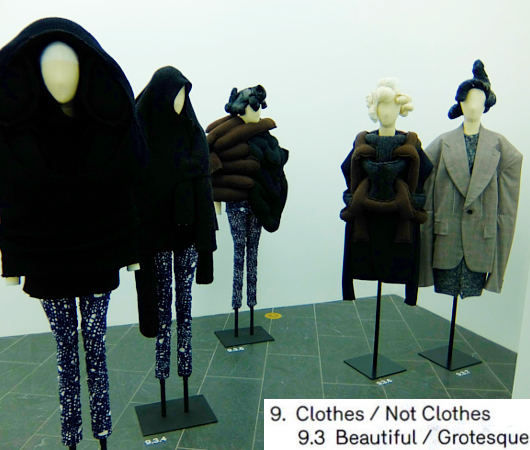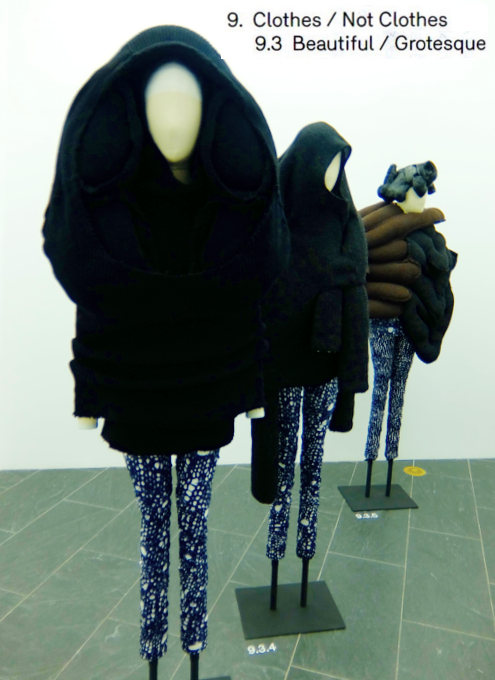 9. Clothes/Not Clothes
9.3 Beautiful / Grotesque
Kawakubo's notions of beauty have rarely conformed to accepted standards. The expressions of
mu
,
ma
, and
wabi-sabi
in her early 1980s collections, unfamiliar to most Western audiences, were interpreted by some observers as grotesque or offensive. An iconic black sweater pierced with holes from 1982 exemplifies what many critics called Kawakubo's "ugly aesthetic." She dubbed it her "lace" sweater, clarifying: "To me they're not tears. Those are openings that give the fabric another dimension. The cutout might be considered another form of lace."
A similar "ugly aesthetic" is evident in the more recent collection
MONSTER
, whose title refers to "the craziness of humanity, the fear we all have, the feeling of going beyond common sense, the absence of ordinariness, expressed by something extremely big, by something that could be ugly or beautiful." The garments confine and constrict the figure in twisted and knotted tubes of dark knitted wool. Like the "lace" sweater, these uncanny and unsettling forms both contest and expand the accepted limits of beauty.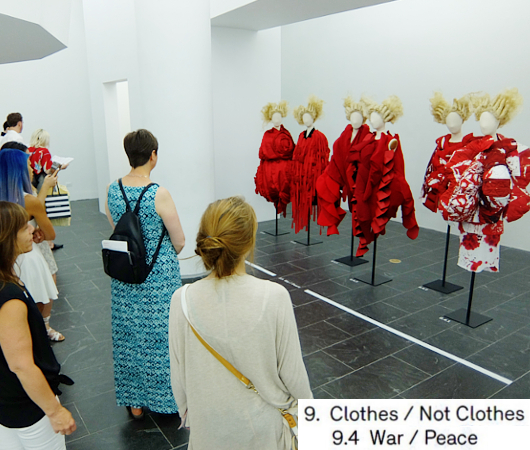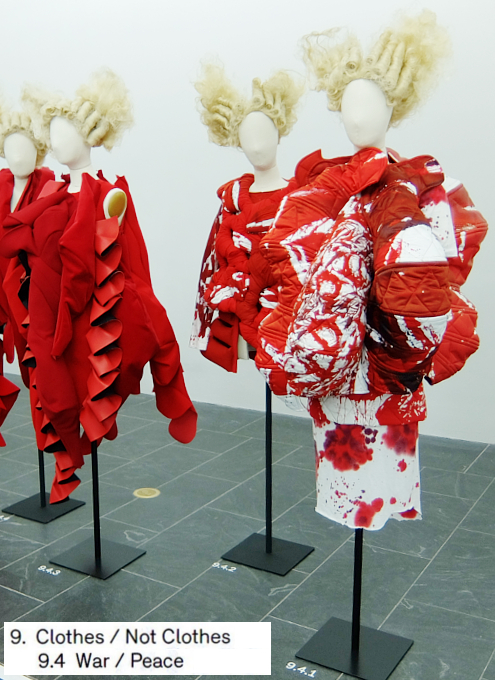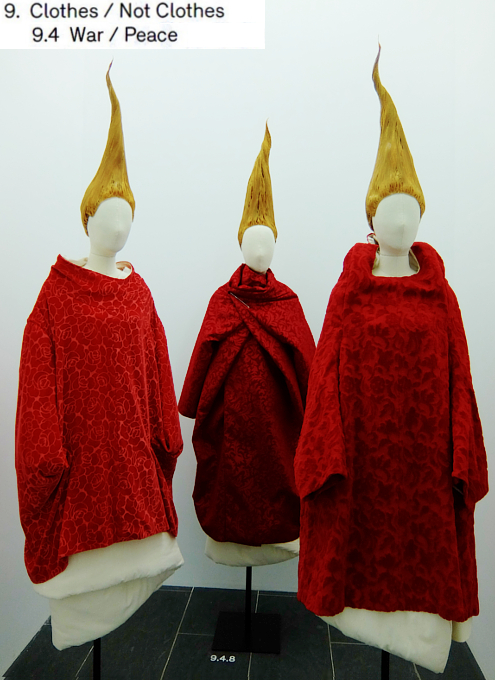 9. Clothes/Not Clothes
9.4 War / Peace
For Kawakubo, creation is linked to defiance and a frustration with the status quo: "Many times a theme for a collection arises from a feeling of anger or indignation at conditions in society. The origin of an idea is found in not being satisfied with what exists already." At the same time, she has said, "I have no desire to make my own designs into messages addressing the issues of our world." When it comes to the zeitgeist, she tends to engage with it symbolically and conceptually.
A prime example is the role of flowers—a recurring motif for the designer—which is explored in War/Peace through two collections:
Flowering Clothes
and its later "not clothes" counterpart,
Blood and Roses
. While the former focuses on flowers as positive symbols of energy, strength, and happiness, the latter mines their darker, more somber and disturbing connotations. It addresses the historical significance of roses as "connected with blood and wars . . . political conflict, religious strife, and power struggles." Roses and blood appear in both literal and abstract form, and both are represented through the color palette—an unvarying, uncompromising poppy red.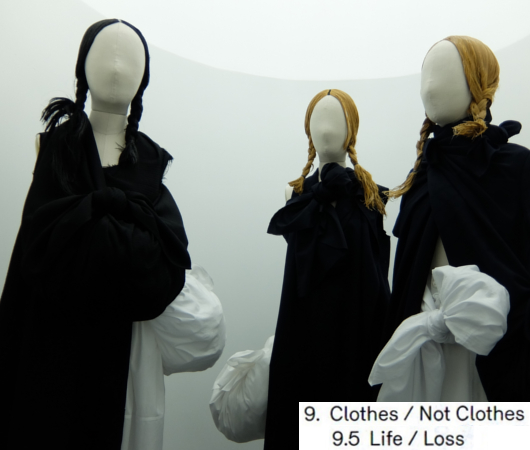 9. Clothes/Not Clothes
9.5 Life / Loss
While Kawakubo has been described as an "intellectual" designer, she insists that her work deals with her "feelings, instincts, doubts, and fears." Her collections contain deeply personal and self-reflective narratives imbued with intense emotions and profound spirituality. These expressive dimensions are explored in
Life/Loss
, which elaborates on the themes of transition and temporality examined in
Then/Now
, extending them through the concepts of memory and memorialization.
It focuses on the collection
Ceremony of Separation
, whose title refers to the ways in which "the beauty and power of ceremony can alleviate the pain of separating, for the one departing as well as for the one saying goodbye." Tinged with sadness and despair, the garments—with their majestic and monumental silhouettes—can be interpreted as ponderous expressions of mourning dress. Rendered in delicate black, white, and gold lace, they represent a poignant meditation on the fragility of life and the finality of death. Several ensembles are comprised of wrapped bundles, reminiscent of the earlier collection Square, in which every garment is constructed from a single piece of square fabric. Like their "not clothes" descendants, these precursors represent meditations on ritualistic practice, in this case the tradition of pilgrimage.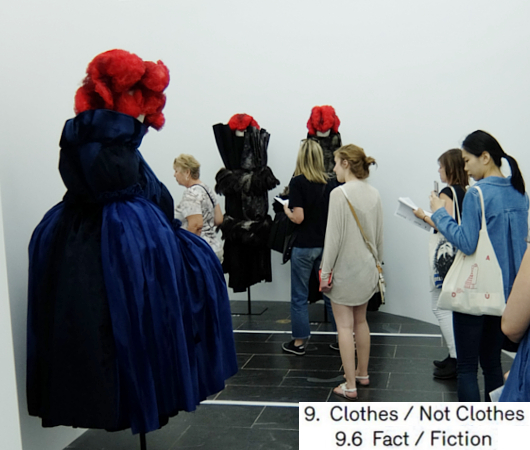 9. Clothes/Not Clothes
9.6 Fact / Fiction
Fact/Fiction
addresses Kawakubo's storytelling tendencies through selections from three thematically linked collections—Blue Witch and its predecessors Lilith (named for a murderous demoness from Babylonian mythology) and Dark Romance, Witch. While the designer regards witches as strong, powerful, and often misunderstood, she resists interpretations of the garments as feminist statements. "I am not a feminist," she has said. Nor is she a fantasist: "I don't have much in the way of daydreams or fanciful imagination. I'm actually a realist."
The ensembles, however, are unmistakably empowering and otherworldly in their forms and silhouettes. Early pieces take the rigidity and severity of men's formal wear and dismantle them through the surrealist strategy of unexpected displacements. In Lilith a jacket is relocated to the lower half of the body, while in Dark Romance garments are twisted out of alignment and skirts reveal vestigial sleeves. Blue Witch heightens this surrealism through distortions of scale that create a storybook-like sense of disorientation and destabilization.
〔ご参考〕
・
Rei Kawakubo/ Comme des Garçons: Art of the In-Between
・
メトロポリタン美術館の見所スポット情報その1
【Rei Kawakubo/ Comme des Garçons:
Art of the In-Between特集】
(1)
メトロポリタン美術館で川久保玲さんの特別展:プロローグ
(2)
Kawakubo's collections: 1. Absence/Presence; 2. Design/Not Design
(3)
Kawakubo's collections: 3. Fashion/Antifashion; 4. Model/Multiple; 5. High/Low
(4)
Kawakubo's collections: 6. Then/Now; 7. Self/Other; 8. Object/Subject
(5)
Kawakubo's collections: 9. Clothes/Not Clothes (9.5 Fact/Fictionまで)
(6)
Kawakubo's collections: 9.7 Order/Chaos; 9.8 Bound / Unbound
(7)
メトロポリタン美術館で川久保玲さんの特別展:関連グッズ販売コーナーの様子

前回に続いて、メトロポリタン美術館で川久保玲さんの特別展『
Rei Kawakubo/ Comme des Garçons: Art of the In-Between
』の会場の様子を、
パンフ
の説明とあわせた特別バージョンでお届けしてます。詳しくは
プロローグ
からご一読くださいませ。
※コメント欄にはログインが必要です。お手数をおかけしますが、ExciteホームでID登録しブログトップでブログを開設してからログインください。既に登録済みの方はそのままご利用頂けます。
「人気blogランキング」