Anything Iceland for the Japanese and for you, too
日本語が読めない方へ向けてのメッセージです。
(This blog is for those who do not understand Japanese language.)

ICELANDia blog features anything Iceland written in Japanse for the Japanese.

English summary available
It was in July 2008, an Icelander asked if I could also write a short summary of my blog in English. Well, that is not a bad idea. Actually I met a guy from New York at Iceland Airwaves in 2007 and he was my blog "looker". He said he visited my blog fairly often as I seemed to talk about obscure Icelandic music artists from time to time.

If you are an English speaker, you may want to scroll down each article. At the end of it, you will find short English writings. English part is not necessary an accurate summary of Japanese part. Often times I express it in different words. It is just easier that way.

Want to leave a comment?
If you would like to leave a comment, please read and follow this instruction. Why? because I am blocking comments written only in English. Sorry about this but otherwise I would be getting zillions of English spams. By writing/pasting something in Japanese, it becomes legit and spam filter will let you come through.

copy&paste the following in your comment:
あけましておめでとう!

What does it say? "A Happy New Year" :D

You can also make it a private message to me if you check the box (see below).

Here's how a comment box looks like and I hope you know what to do now.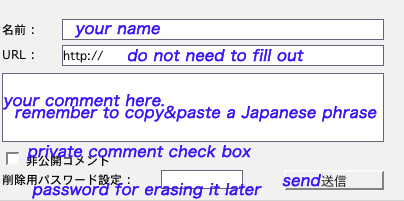 ***


I do not know how many non-Japanese blog readers are there, or if there is any. I hope to see you at Iceland Airwaves!

Yuka Ogura